The Farmers' Party leader, Irungu Nyakera, has called for urgent action to contain government spending in Kenya.
He has suggested that the government should address the issue of rising government spending by looking into the output of the Parastatal reforms task force.
Kenya has 260 parastatals, most of which are of zero social and economic benefits to the public.
Nyakera noted that over 80% of them are unprofitable and fully or partially rely on budgetary support from the treasury.
"The government must act fast to contain its spending, relook at the output of the parastatal reforms task force, and address the issue of the inflated wage bill. Failure to act may lead to even more severe consequences, and the country's future could be at stake," he said.
He believes that the Kenyan economy is suffocating under the weight of rising interest rates, soaring inflation, falling forex reserves, depreciating shilling, unsustained debt burden, falling revenue collections, under subscription of its local borrowings, and rising government spending.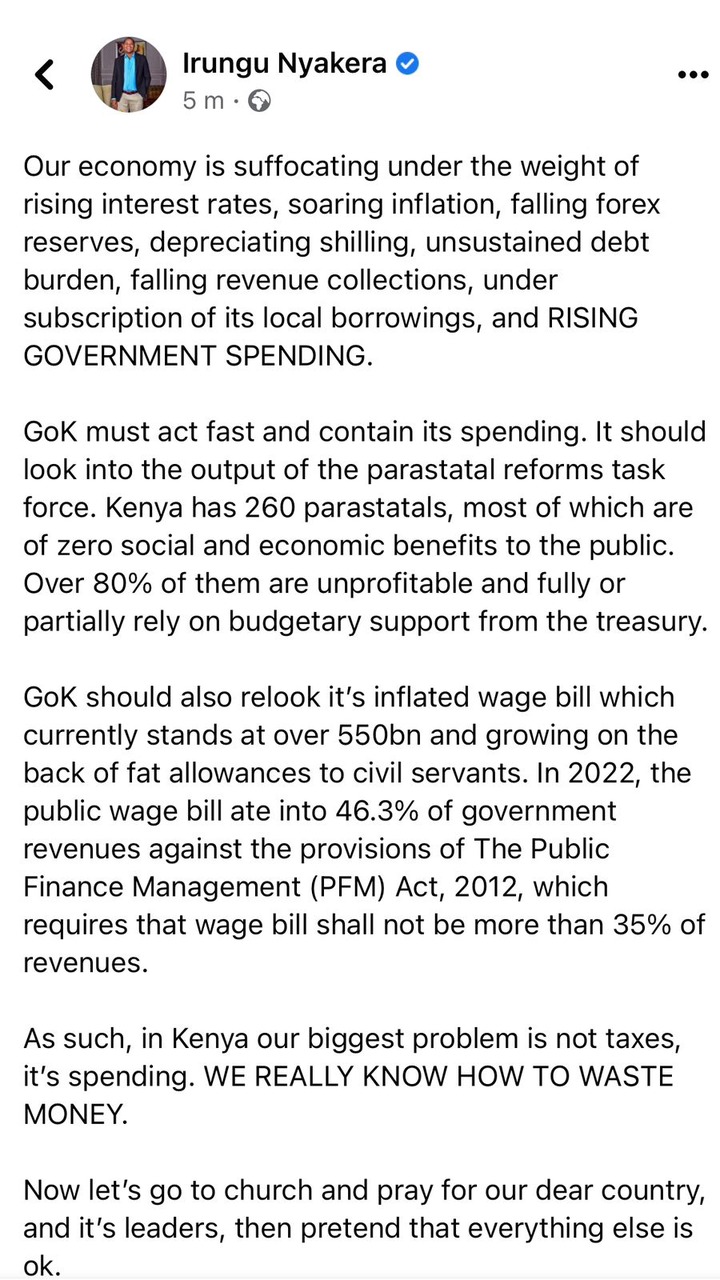 Nyakera further suggests that the government should relook into its inflated wage bill, which currently stands at over 550 billion and growing due to fat allowances to civil servants.
In 2022, the public wage bill ate into 46.3% of government revenues against the provisions of The Public Finance Management (PFM) Act, 2012, which requires that the wage bill shall not be more than 35% of revenues.
Nyakera emphasized that Kenya's biggest problem is not taxes, but rather its spending.
"We really know how to waste money," he laments.
Financial experts have numerously stated that the Kenyan economy has been facing several challenges, including rising inflation, a depreciating currency, high levels of public debt, and sluggish economic growth.
The COVID-19 pandemic also had a significant impact on the economy, causing a contraction in GDP growth in 2020.