A large group of squatters in Naivasha, Kenya, has issued a strong warning, declaring their intention to march to the Mount Kenya University campus in Nakuru next week on Monday.
They accuse the university's chairman, Simon Gicharu, of unlawfully seizing their vast land parcel spanning 16,000 acres and forcibly evicting them with the assistance of the local administration.
According to local residents who shared their grievances, they have inhabited the area for several decades. In 2019, the government established a local school for approximately 3,000 squatters and made promises to subdivide a portion of the land to accommodate their needs, as they had nowhere else to go.
The situation escalated further last week when witnesses reported the arrival of Mr. Gicharu by helicopter. Allegedly, he conducted an inspection of the ongoing evictions and the subsequent destruction of crops, which resulted in the burning of houses.
James Ndungu, local farmer and a victim 54 year old expressed the dire predicament they face, stating, "We have nowhere to go. Simon Gicharu, the owner of Mount Kenya University, claims to have purchased this land from the government and now wants us out.
He accused Simon Gicharu of utilizing the police force to obstruct justice, and we believe the media has been compromised. They come to interview us, but later receive payments from Gicharu and fail to air our grievances.
The affected squatters, as a result, staged a camp-out at the office of Nakuru Governor Susan Kihika and the Regional Commissioner in an attempt to secure an audience and address their concerns.
Read also: https://www.newsline.co.ke/most-famous-murder-cases-that-once-happened-at-mount-kenya-universities/
''We have nowhere to go, Simon Gicharu who owns Mount Kenya university claims he bought this land from the government and now wants us out. He is using the police to defeat justice, the media has been compromised, they come to interview us and later get money from Gicharu and never air our grievances,'' James Ndung'u 54 told the writer.
Isabella Namazzi, a squatter, expressed their distress and disillusionment, stating, "We have been left vulnerable and hopeless. It appears that the police, media, and local administration have been enticed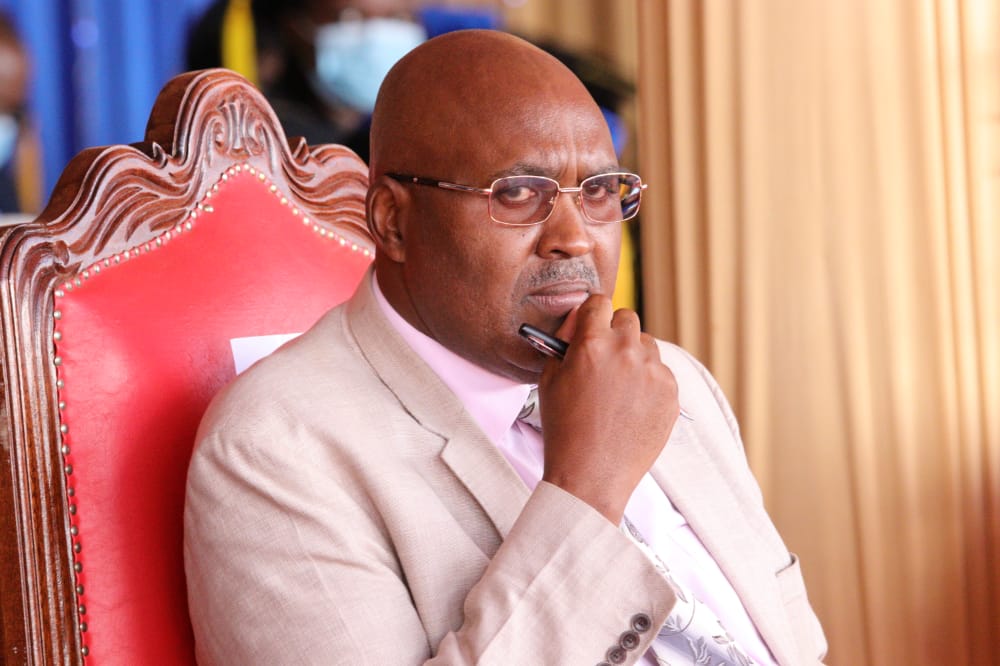 According to the majority of farmers residing in the affected area, known as Ndabibi and Kosovo, they assert that it is their rightful home.
They have accused  Mr. Gicharu, the chairman of Mount Kenya University, and another influential individual named Benjamin Kipkulei, are both laying claim to ownership of the land.
''We have been left vulnerable and hopeless and because police, media and local administration has been bribed not to share our grievances we will on Monday protest outside Mount Kenya University Nakuru campus so that the people who think that Simon Gicharu is a role model and an educationist can now know that he is land grabber,'' Isabella Namazzi from Uganda and who is a squatter told this publication
Read also:https://www.newsline.co.ke/mount-kenya-university-in-an-embarrassing-tussle-with-former-student-over-sh8-400-refund/
Simon Gicharu is well known in Kenya, Rwanda and Uganda where he has widespread campuses of his university.
In Uganda, his university, Mount Kenya University has a partnership with Makerere University and both in Kenya and Rwanda there has been concerns about the quality of education that his institution offers.
At one time, Rwanda stopped his university from offering medical courses saying the quality offered was substandard. Reports indicate that Mr Gicharu want to set up a flower farm in the contested land targeting the lucrative export market.
Last year during general election, Gicharu is said to have bankrolled Raila Odinga campaign and also giving his institution in Thika to be a strategic Azimio centre.
Simon Gicharu is said to have given Raila Odinga a personal contribution of Ksh.240 million.
"It was a well-attended event. Most contributors never wanted to be identified but what I know is that S.K Macharia gave a personal contribution of Ksh. 30O million and Mr. Gicharu through a proxy sent 240 million towards funding Odinga's campaigns," a source who attended the dinner where a buffet per individual was retailing between Ksh 500,000 to 1 million told this publication.