In the political arena of Kenya, the battle between deputy president MP Rigathi Gachagua and President William Ruto over the control of Mount Kenya MPs is allegedly intensifying.
Gachagua, who is the spokesperson of the Mount Kenya region, is seeking to take control of the loyal foot soldiers of Ruto in the region. The political pundits have claimed that Gachagua is fighting for control of the Mount Kenya MPs, similar to what Ruto diehards are doing in Rift valley.
The last general election saw the United Democratic Alliance (UDA) party, which is allied to Ruto, scoop several seats in the region. Ruto had been controlling a huge chunk of MPs from the Mount Kenya region, and this was seen as a significant political win for him.
However, Gachagua is not willing to cede control of Mount Kenya region to Ruto, and he is mobilizing his forces to counter Ruto's influence in the region despite being his deputy.
Political analyst Albert Kasembeli has stated that the  battle for control of the Mount Kenya MPs is not going to be an easy one, as Ruto is also seeking to gain their support ahead of the 2027 general elections.
He notes that both Gachagua and Ruto know that controlling the Mount Kenya MPs is critical to their political ambitions, and they are leaving no stone unturned in their bid to secure their loyalty.
"The political temperature in the region is rising as the battle between Gachagua and Ruto intensifies. The two leaders are crisscrossing the region, seeking to win the support of the MPs and the electorate. It is a battle for the hearts and minds of the people of Mount Kenya, and the stakes are high,'he states.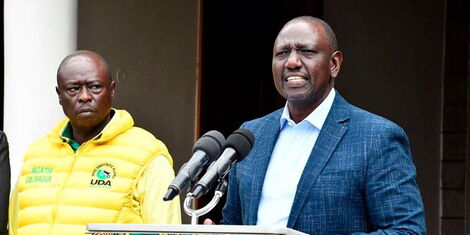 He states that as the battle for control of the Mount Kenya MPs continues, it remains to be seen who will emerge victorious. "Will it be Gachagua, who is seeking to take control of the region, or Ruto, who has already established a significant political presence in the area? Only time will tell,'
Former president Uhuru Kenyatta has left active politics despite him recently declaring Raila Odinga as his party leader.