It could be a big accident story now on all media outlets were it not for his quick decision to avert it. The driver of a bus belonging to Metro Trans Sacco made an ingenious move after the bus was unable to climb a slope along Valley Road in Nairobi.
It started rolling backwards and before it rammed to several cars behind, he turned it into a parking of an apartment, stopping a major tragedy in the offing.
A CCTV video shows the bus making unusual sounds as the driver tried to steer it when it started drifting backwards fast.
He hit the gate and rammed into one of the several cars in the parking. Consequently two other parked cars got some dents.
From the video (Watch Below), the parking has more than 30 cars parked.
At that moment, it was empty but dozen of passengers who were to board it are seen walking to the accident scene, happy that they escaped a tragedy.
His move has received praises with many saying his ingenuity and prompt decision saved the day.
"That was a smart driver. Insurance will take care of that small dent on the parked car. It would have been ugly if he did not force his way into the parking," Jane Waruguru said.
Martin Otieno observed that the driver has some basics on defensive driving and that saved many lives.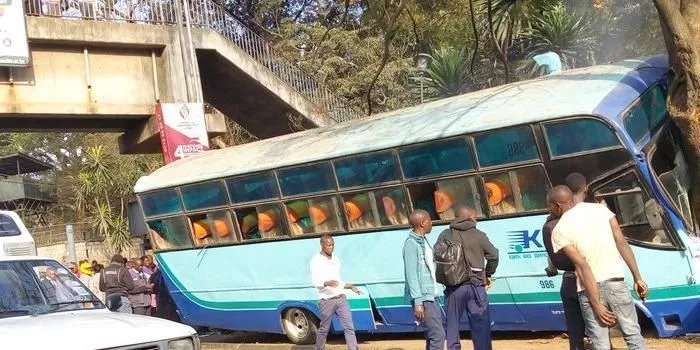 A past bus accident along Valley road, Nairobi.
"Vehicles are bound to breakdown. We should not blame him but praise his action that saved lives" Damaris Mueni said.