Invest and Grow (IG) Sacco has recorded a remarkable 34 per cent increment in its credit or loan disbursement in the last financial year. This translates to an increment of KSh2,154,908,018 from KSh6,371,690,015 in December 2021 to KSh8,526,598,033 in 2022.
The disclosure was made by Sacco Chairman Mr. Kennedy Keya during the Sacco's 45th Annual Delegates meeting held on Friday, February 24, at The Grand Royal Swiss Hotel, in Kisumu.
At the same time, Mr Keya reported a 46 per cent growth in Income based loans compared to Investment based loans with a growth performance standing at 20 per cent due to the review of the credit policy that extended repayment period, prompt loan disbursement and multiplier factor of the products.
"To sustain this steady growth of our loan disbursement, the Board will continuously keep on reviewing the credit products features to ensure they meet the members' needs in the current economic environment," said the Chairman.
The overall loan portfolio increased to KSh.9.12 billion from KSh.7.44 billion in 2021 translating to a 22 per cent (KSh.1.67 Billion) growth. The chairman attributed this to increase in loan uptake following the review of the credit products features.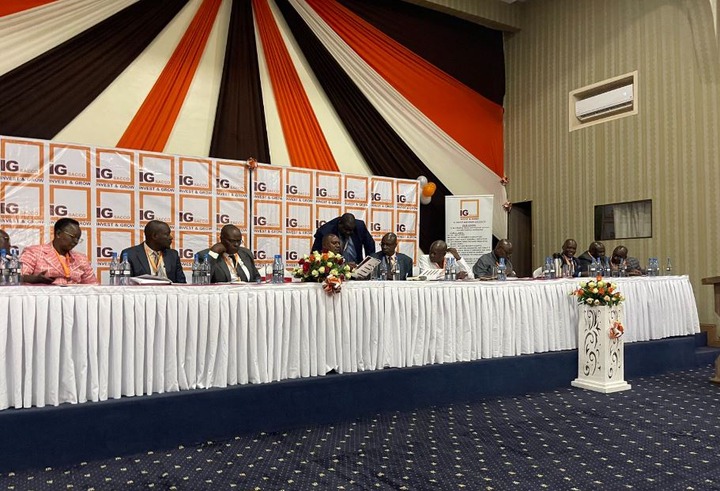 IG Sacco Ltd is a SASRA licensed Deposit-Taking Sacco with an Asset base of over KSh.12.95 Billion as of December 31, 2022.
The Chairman's report further divulges that during the same period, the Sacco assets grew from KSh.11.69 billion in 2021 to KSh.12.95 billion in 2022 realizing a 11 per cent (KSh.1.26 Billion) growth.
The overall IG Sacco income increased to KSh.1.86 billion in 2022 compared to KSh.1.71 billion in 2021 translating to 9 per cent (KSh153 Million).
IG Sacco assets base has continuously grown over the past years arising from the continuous contribution by members towards share capital and other monthly subscriptions to non-withdrawable deposits as guided by our strategic plan 2017 to 2022.
Further the chairman reported an improved share capital by 15 per cent. Thus KSh1.3 Billion in 2022 from KSh1.1 Billion in 2021, attributing it to the annual increment of share capital by KSh4, 000 per member as per the strategic plan.
FOSA patronage equally recorded an improvement during the year 2022 where FOSA salary earners increased to 16,144 compared from 15,357 in 2021, whereas AKIBA Scheme subscribers grew to 18,159 subscribers in 2022 as compared to 17,457 in 2021.
"We therefore humbly request you honorable Delegates to intensify recruitment of new members especially new teachers employed recently and FOSA salary earners to increase patronage of FOSA products e.g. Akiba Savings, FDR, Holiday savings and NyotaNdogo savings, hence increase the income," the chairman appealed.
As a Sacco, the underscored the need to continue with the Education and Training of members in line with the co-operatives principles. "We are currently carrying out members' education program across thirty-two divisions within Kakamega, Vihiga and its neighbouring counties," noted Mr. Keya.
The Sacco is set to roll out an upgraded Sacco core banking system, which will automate most of the Sacco operations and at the same time in the process of establishing a Call Centre and CRM system that will enhance members' service delivery and prompt communication.
IG Sacco was formed in 1977 and registered as a Co-operative Society, with a total membership of 115. Through visionary leadership, committed members and staff, the Sacco has undergone tremendous transformation and developed its rich history over the years.
In line with its growth and expansion strategy, the Sacco rebranded from Kakamega Teachers Sacco Ltd, KATECO to IG Sacco Ltd in 2015 adopting a strong, bold, stable and superior brand. IG comes with a new re-energized spirit of diligent service with a special touch to her members and society.