The young man from Murang'a County who is popular for his peculiar friendship with stinging bees is getting visitors with strange request.
Francis Gathuka walks around with swarm of bees on his body without get stung. He shot to limelight after his story was published.
Now politicians are hunting for him. Sending people to convince him accept an offer. Which is, to act for their stunts that they can send swarm of bees to a person who has offended or robbed another.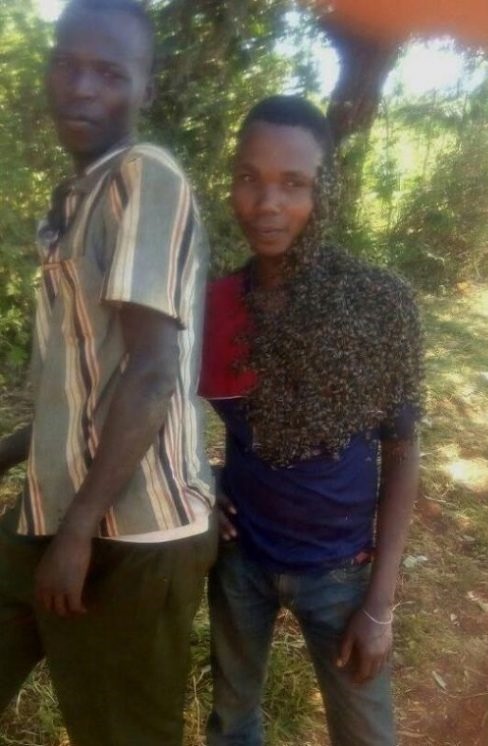 "Some people approach me claiming they want me help them relocate bees from their houses. That is what I do but after we strike a deal they ask me to act for some witchdoctor but I always decline" Gathuka reveals.
Many witchdoctors in Kenya and neighbouring countries are fond of using bees to catch a thief or person(s) who harmed another.
It is acted in such a way that the purported thief with bees around his/her body emerges while carrying items stolen and screaming in pain. Witchdoctors ensure a drama ensues and media capture it unfolding as they take his/her to police station. This gets the witchdoctor more and well paying clients.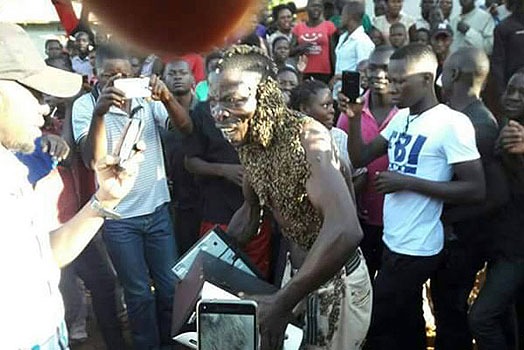 A purported thief with bees all over his body, stinging him after a client sought witchdoctor's help. [Photo: Courtesy]
But going by requests gathuka is getting from these witchdoctors, it can be revealed most of these cases of thieves nabbed using bees are most of them if not all acted.
"All they ask is for me to accept to be a thief, then I emerge with bees bees all over my body while screaming in pain. Another one acting as owner of stolen items shouting he would not have mercy on me as the fake witchdoctor do some rituals" he discloses.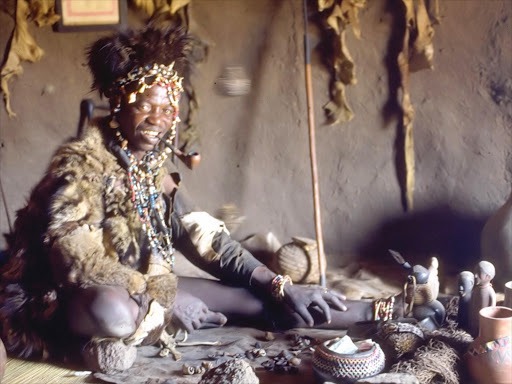 A witchdoctor.
The location he is told would be far away from his Murang'a County where nobody would identify. Once rescued from the bees, he would narrate some fake story and the client talk about how he sought the mganga's help and now his or her items have been returned and is contented.
Back in his Muthithi village in Kigumo, Gathuka is paid Sh500 or more to take away bees from homesteads or help relocate them from one beehive to another.
"I stand near them and in minutes time they mount on my body, I walk to where we plan to drop them and once there they fly off my body into the beehive or on a tree" the casual labourer says.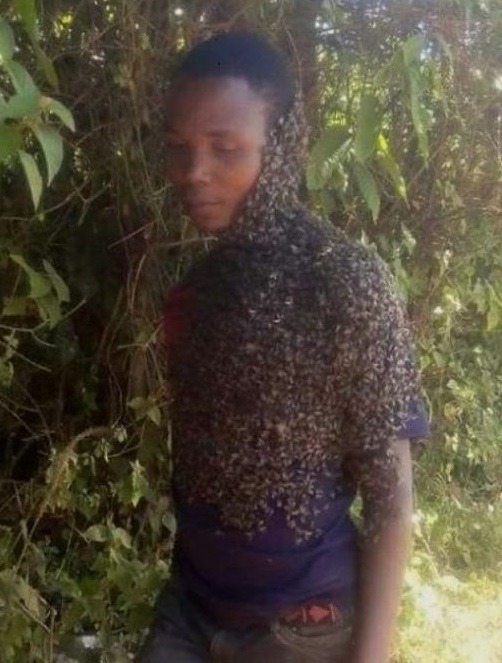 Gathuka.
He fell in love with bees when he was a boy. They were playing soccer when saw bees in a hole. They provoked them and apart from him, his friends were mercilessly stung.
Later incidences proved to him he had a strange connection with bees. He nurtured the friendship.
Gathuka's village in Murang'a.
In 2016 a bar owner at their shopping centre slapped him, He went for the bees that staged "occupy bar" for entire day. Customers run away. The bar owner apologised and paid him Sh3, 000 to take them away.