Residents of Kiriita ward in Nyandarua will have a relief after a new fence is set to be put up starting this week to keep away rogue elephants.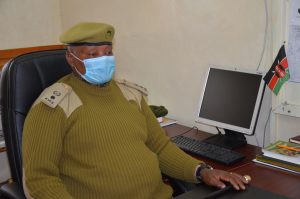 Speaking to KNA in his office, Nyandarua warden Gabriel Kiio said that the replacement of the old fence with a new fence will be done by the end of this month.
The fence will cover Nyahururu-Kiandege belt. This comes after a week of frequent reports of elephants getting their way out of the forest and walking freely into homes in Kiriita, Kiandege and Ndogino wards in Nyandarua.
"Elephants are getting a way into homes because we have put down segments of the old fence and we are currently in the process of replacing the old line with a new one.
Some areas that we are yet to cover make some openings for the elephants. There has not been any human attack by the elephants.
Moreover, our emergency hotlines are working throughout even at night and my team of officers is always ready to respond to any sighting of any game animal near homes," assured Kiio.
Farm invasions and crop destruction have been reported at the Nyandarua KWS Station, but Kiio says the provision for compensation is not only done on paper but they have to do the actual site visit to assess genuine cases from false or exaggerated cases.
"Compensation varies from time to time. The degree of destruction and loss is not a fixed amount. We encourage the residents to call us immediately to reduce the risk of damage," he said.
"Also, we have shared our hotlines and personal numbers with various village elders in the areas prone to human-wildlife conflict," clarified Kiio.
However, he said that their response depends on the availability of resources at the time of the call.
By Antony Mwangi and Gathoni Nyambura