In late January 2017 a family at Kahawa Sukari, Kiambu County got concerned of sudden disappearance of their daughter Grace Nduta who was a fourth-year engineering student at Jomo Kenyatta University of Agriculture and Technology (JKUAT).
A search for Nduta was commenced on the ground and social media prompting her older brother Charles Kibe to run away from home.
The search caught media attention but the end of it was a shocking and traumatising revelation.
Even more horrifying is the confession the killer gave in the court.
Kibe had stabbed Nduta to death then cut her body into pieces and stuffed it in a bucket that he hid inside their parents' posh home and other body parts dumped at a coffee farm in Juja.
Kibe, the first born in the family of three was also an alumnus of JKUAT. He graduated with a degree of Commerce.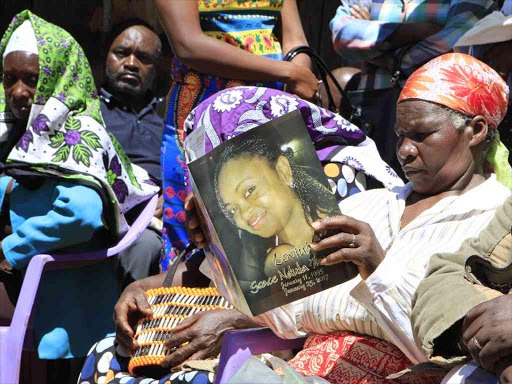 Her burial at Gatundu.
When he was arraigned in Kiambu court Kibe gave a shocking account of how they quarreled over food, stabbed each other before killing his sibling in macabre manner.
We reveal the shocking confession of how Kibe executed the killing. An account he disclosed to the High Court Justice Joel Ngugi but which was not aired by the media.
The incident happened on January 25, 2017 mid-day at their parents' home.
The two had been left at home after their parents went to work.
Their father Elizaphan Mwaura worked at the Ministry of Transport, Infrastructure, Housing and Urban Development while the mother Agnes Wanjiru at Juja Farm Secondary School.
Kibe said he went to the dinning room and found Nduta had prepared some Weetabix with milk. He ate it.
His sister reportedly got angry and though Kibe apologised, she went on allegedly calling her all manner of names.
The accused said she called him some unprintable names but he avoided and told her to prepare another dish from Weetabix that remained.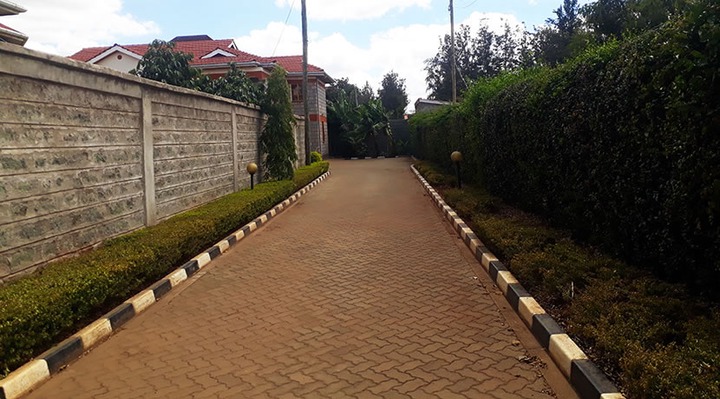 The family lived in posh Kahawa Sukari estate.
After an exchange of nasty words, anger flared up. She ran into the kitchen and took a knife which she allegedly stabbed the brother in left hand.
Kibe told the Court he too ran rushed to the kitchen and took a knife to defend himself.
They charged at each other but the brother overpowered and stabbed her sister on the right side of the neck.
"She fell down and started bleeding profusely" Kibe disclosed.
Panicking and confused he wondered what to do. How to dispose the body of her sister.
Immediately he started chopping it into small parts to fit in a bucket.
He later concealed the dismembered body and continued with his life as nothing happened.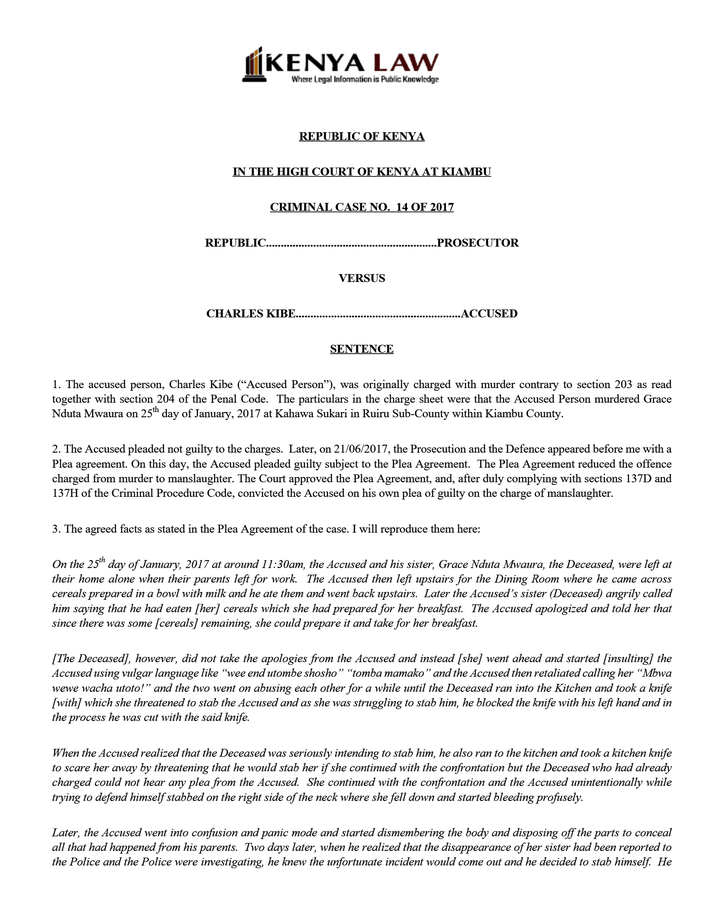 Part of Kibe's confession in Kiambu High Court.
When her disappearance was reported to police and investigations were initiated, Kibe attempted suicide before he was arrested.
"I knew the unfortunate incident would come out. I decided to stab myself" he revealed.
It was a traumatising experience to the parents and their last born daughter who was in high school.
Nduta was killed exactly two weeks after she celebrated her 22nd birthday. Kibe then was 24 years old.
Being both victim's and accused's family, parents pleaded with the court to award Kibe a light sentence because a life sentence would agonise them more.
Justice Ngugi concurred with the parents saying Kibe pleaded guilty in a timely manner and spared the family the stress of testifying in a case where the victim would be the daughter and the accused the son.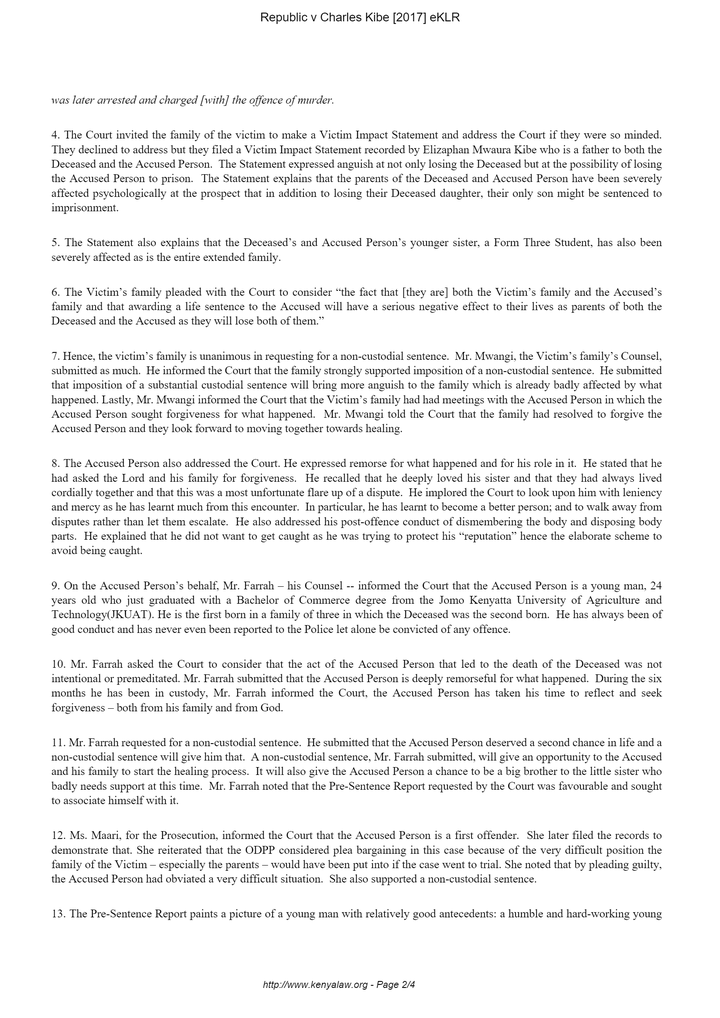 Part of the ruling by Justice Ngugi.
He was sentenced to three years in jail.
"Consequently, in my view, a fit sentence that properly balances the mitigating circumstances with the aggravating circumstances is a sentence of three years imprisonment. Accordingly, I sentence the Accused Person to three years imprisonment" Justice Ngugi ruled.