China Square, the popular indoor supermarket located at the heart of the unicity Kenyatta University has banned shoppers from taking photos from its shelves.
The supermarket reopened its doors on Tuesday after a temporary closure due to a dispute with Trade Cabinet Secretary Moses Kuria.
The management re-opened the mall on Tuesday morning and by 9.00 am Kenyan shoppers were queuing outside the mall before the doors even opened.
Once inside, they were greeted with an array of shops and stalls, each offering something different.
A security guard who sought anonymity told the Star that they have been ordered not to allow shoppers or journalist take photos of the displayed items.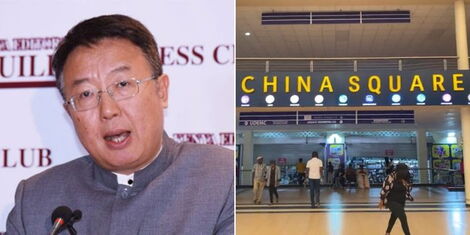 "We have been directed not to allow any shopper or journalist or to film from the shelves, "he said.
He revealed that the restocking of the supermarket was done over the weekend.
An attempt to get a comment from the China square management was declined as they maintained that they aren't ready to mention any matter to the media.
"We aren't ready to comment on any matter, we will give the directive later, "a receptionist at the office told the writer.
China square boasts a wide range of products, from clothing and accessories to electronics, hardware tools, furniture items, and household items among others.
Emmanuel Mwangi trader at the mall said that the closure had affected the income of many small businesses that operate within the mall including the bank as well as hotels.
"We are happy when the mall is full as we are making sales and we would request the government to address the issues using an alternative method instead of closing, "he said.
A statement by the Kenya China Chamber of Commerce (KCCC) welcomed the move by the Kenyan Government to allow the Chinese traders to resume operations.
"We welcome the good news on the resumption of operations of China Square. This follows several engagements between the Kenya Government and the Chinese Community in Kenya to reach an amicable solution to the stalemate," the Chinese Chamber of Commerce stated.
Kenyatta University students last week had given the government a 3-day ultimatum to allow owners of China Square mall to reopen the premises.
Addressing journalists at Uni-City Mall where the China Square store is located, the student leaders said the government should lower the cost of living rather than closure businesses that offer competitive commodity prices.
They were led by Kangi Dennis, Brian Rotich, Samuel Mwangi, and Kevin Karasi.
Lei Chang had earlier revealed that he made his first Ksh20 million in his first two weeks adding that on a low business day, his sales amounted to Ksh10 million.