For decades, the Kikuyu Council of Elders has been a revered institution that has guided the Kikuyu and Mount Kenya community in matters of tradition, culture, and governance.
The council has been a symbol of unity and strength, representing the voice of the people and providing counsel to political leaders.
However, the 2022 general election changed all that. Led by Wachira Kiago, the council took an unprecedented step of openly campaigning for former Prime Minister Raila Odinga, who was running against Deputy President William Ruto. The move was seen as a betrayal by the community, which has traditionally supported the ruling party, Jubilee.
The council's decision to back Raila Odinga was divisive and caused a rift within the community. It was a clear departure from its non-partisan approach, and many saw it as a power play to maintain influence and relevance in the political arena.
The consequences of the council's actions were severe. In the aftermath of the election, the community felt betrayed, and the council lost its position as a respected institution.
Many saw the council as a tool of Raila Odinga and his allies, and it became clear that the council had lost touch with the community it was supposed to serve.
Former President Uhuru Kenyatta, also followed the council's direction and campaigned for Raila Odinga. However, Uhuru's support for Raila did little to sway the community, which remained resolute in its support for Ruto.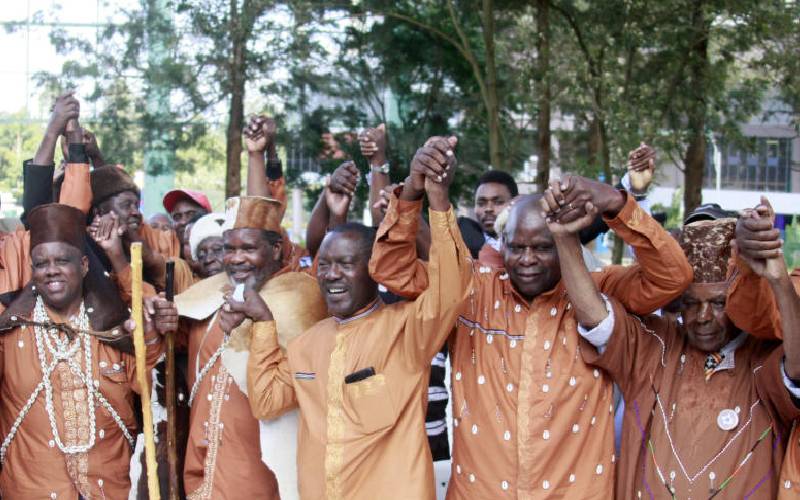 The council's failure to remain neutral and guide the community was a significant misstep that has cost it its position in society. The council's leaders have since faced backlash from the community, and their influence has waned significantly.
In conclusion, the fall of the Kikuyu Council of Elders is a cautionary tale of the dangers of mixing tradition with politics. The council's decision to back Raila Odinga was a misstep that has cost it dearly.
The council failed to remain neutral and guide the community, leading to its loss of relevance and position in society. It serves as a reminder that institutions must remain impartial and independent if they are to maintain the trust and respect of the people they serve.