George Wachiuri, the Chief Executive Officer of Optiven Group, has been awarded the fellowship of the Kenya Professional Realtors Association (KPRA) in recognition of his contribution to the real estate industry. The award confers upon Wachiuri the honor of fellowship of the KPRA, starting from the year 2022.
Wachiuri expressed his gratitude for the recognition, stating that it was a journey of passion and commitment to empower people to create wealth and improve their lives.
He urged stakeholders in the real estate sector to continuously improve their trade and build trust with the masses to provide transformative solutions to customers.
"I am most humbled by this one of kind recognition and reward by the Kenya Professional Realtors Association – KPRA. It has been for me a journey of passion and pain, but one filled with the desire to empower people to create wealth and live better for the future."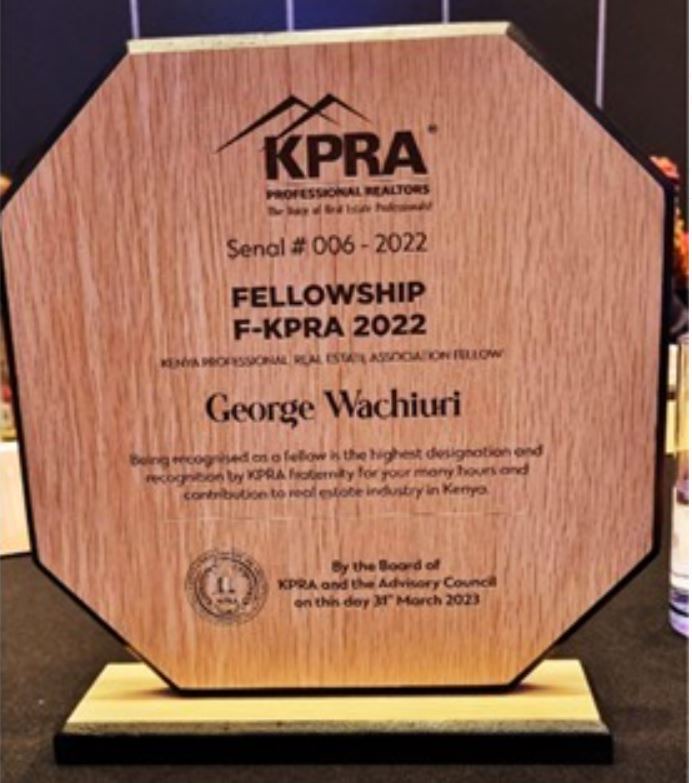 The fellowship award comes as Optiven continues to offer opportunities for the youth through management trainee programs and championing social-economic transformation.
The award recognizes Wachiuri's dedication to the real estate sector and his efforts to empower and mentor the next generation of realtors and entrepreneurs.
Furthermore, he called for companies in the industry to offer opportunities for learning and engagement to the youth, allowing them to share their experiences
Optiven Limited, the company led by Wachiuri, has been offering mentorship opportunities for college students since 2019 through the George Wachiuri School of Mentorship.