The Kenyan political landscape is always rife with surprises and unexpected twists, and the recent entry of Musalia Mudavadi into William Ruto's camp has definitely stirred the pot.
The move has raised questions on whether Ruto's big political gamble is paying off, and what the implications are for the upcoming 2027 presidential elections.
The dynamic between Ruto, Gachagua, and Mudavadi is particularly interesting, as each of them holds significant influence in their respective regions.
Gachagua is a key player in the Mt. Kenya region, while Mudavadi commands significant support in the Western region. Ruto, on the other hand, has been working tirelessly to build a coalition that spans across various regions of the country.
With Mudavadi's entry into Ruto's camp, many have wondered how this move will impact Gachagua's political ambitions, particularly his aspirations to be the second-in-command. It is no secret that Gachagua has been positioning himself as Ruto's right-hand man, and has been actively campaigning for the UDA party.
Political pundits now believe that Ruto might be grooming Musalia and Kiharu MP Ndindi Nyoro whom its believed that Musalia might deputize Ruto and consequently Ndindi Nyoro to deputize Musalia in 2032 consequently.
However, with Mudavadi now in the picture, there is a risk of Gachagua being overshadowed by the ANC leader, who is seen as a seasoned politician with a solid track record.
Mudavadi's move to join Ruto's camp may also mean that Gachagua's chances of being named as Ruto's running mate are now slim to none.
This turn of events could be a major blow to Gachagua's political career, and it remains to be seen how he will navigate the situation. It is possible that he may opt to switch allegiance and join a different camp, or he may choose to stay put and continue to support Ruto's bid for the presidency.
Regardless of what happens, the entry of Mudavadi into Ruto's camp has definitely strengthened the UDA leader's chances of winning the presidential elections. Mudavadi brings with him a significant amount of support from the Western region, which could prove crucial in securing votes in that area.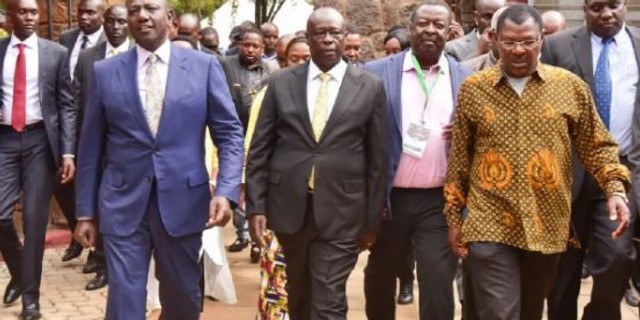 Furthermore, Mudavadi's move has also weakened the opposition, particularly the Azimio -One Kenya alliance, which was counting on the support of the ANC leader.
Mudavadi's decision to join Ruto's camp has dealt a major blow to Azimio  chances of winning the presidency, and has left many wondering what the opposition's next move will be.
Overall, Ruto's big political gamble seems to be paying off, at least for now. His coalition continues to grow in strength, and he has managed to bring on board key players from different regions of the country. However, it remains to be seen whether this momentum will carry through to the 2022 elections, and whether Ruto will ultimately emerge as the country's next president.
In conclusion, the entry of Musalia Mudavadi into William Ruto's camp has definitely shaken up the political landscape in Kenya. The move has raised questions on the implications for Gachagua's political aspirations, as well as the impact on the upcoming presidential elections. While Ruto's big political gamble seems to be paying off for now, only time will tell whether he will ultimately emerge victorious.