Singing in praise of politicians has become a money minting business for musicians from the Kikuyu community.
Some have done it on request while others do on their own hoping to catch attention of the moneyed presidential aspirants but have failed terribly.
There is however the secular artist Kimani wa Turacco who is jumping from one camp to the other in search of publicity and money.
Last year the singer-cum-businessman was heaping praises on former Premier Raila Odinga, souring his friendship with the likes of Muigai wa Njoroge who is leading pro-Ruto Kikuyu artists.
A song he did in 2018 "Bye Bye Raila", Wa Turacco attacked Raila saying he wished him another loss in the 2022 election.
However, in 2020 he was in the front line praising Raila while he criticized Ruto.
The song "Nii Ndiri Na Thiiri Wa Mundu Wa 2022" (I owe nobody in 2022) he targeted Ruto who has been yearning to succeed President Uhuru Kenyatta.
As that was not enough, he went ahead to compose another song "Muici ni Muici" (A thief is a thief) in which he not only attacked the DP but welcomed Raila 'home' after a handshake.
'Reke Tumanwo' (Let's go separate ways) was another song in 2020 blasting Ruto as the singer extolled Uhuru, telling him to divorce his deputy without blinking an eye.
There was also "Hatukipatiani" (We will not give the seat away) which also vexed Ruto's footsoldiers.
Before long the Paloma hit song artist started endearing himself to billionaire businessman Jimmy Wanjigi with praise songs even before the former declared his interest for presidency.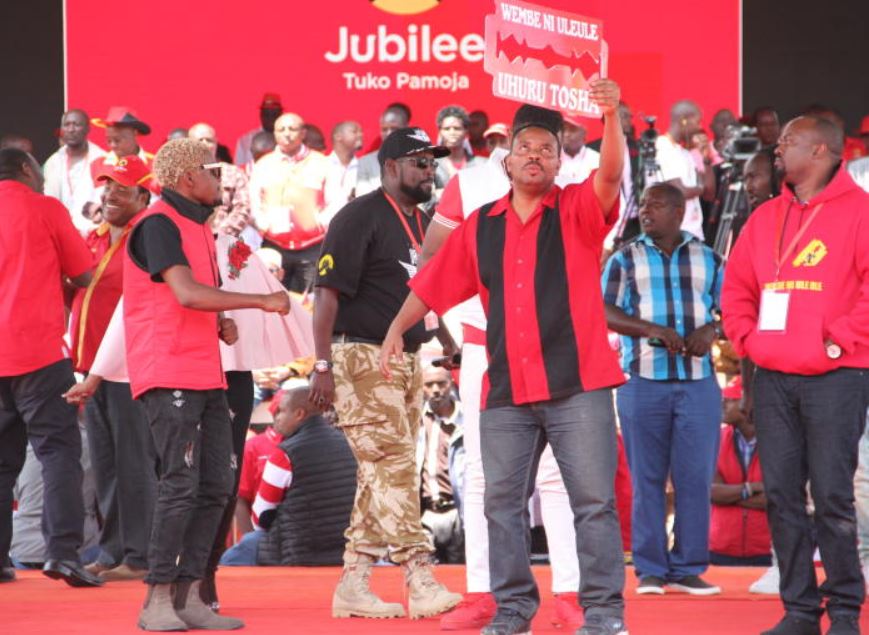 In the "Hatukipatiani" song Wa Turacco had changed focus from Raila to Wanjigi. He 'prophesied' the son of a former Cabinet minister as the right man to take over from Uhuru.
But early this year the fickle artist had dropped Uhuru, Raila and Wanjigi after he, alongside a number of Kikuyu singers, both gospel and secular, were invited to Karen to meet Ruto.
After meeting the DP, he was all over supporting his presidential bid and even composed "Haiwezekani" to drum up support for him.
Now word on the ground has it that the controversial musician is just seeking relevance and goodies from these politicians.
"Kima wa Turacco like other singers heaping praises on politicians is after money but his approach is nauseating. He knows the likes of Muigai wa Njoroge have made good money from Ruto while Kamande wa Kioi, Ben Githae have earned from Raila's side" a singer revealed.
Adding; "His songs are haphazardly prepared and he seems angry because even after singing praises for Raila he was not rewarded financially. I am not sure if Wanjigi gave him money".
This week he was at it again claiming that tycoon SK Macharia had banned his songs from Inooro TV, Radio and other stations under Royal Media Services for blasting Raila in his new songs.
This is seen as another stunt by Wa Turacco to get publicity and some cheap recognition from Ruto's handlers or the DP himself.
"You think SK Macharia knows him personally? Songs with just 5K views on Youtube can scare Macharia to give such a directive to his employees? I doubt" another source said.
On social media it is clear the musician has lost support that has dwindled his income and apparently, he is ready to do all manner of stunts to get relevant during this electioneering period.